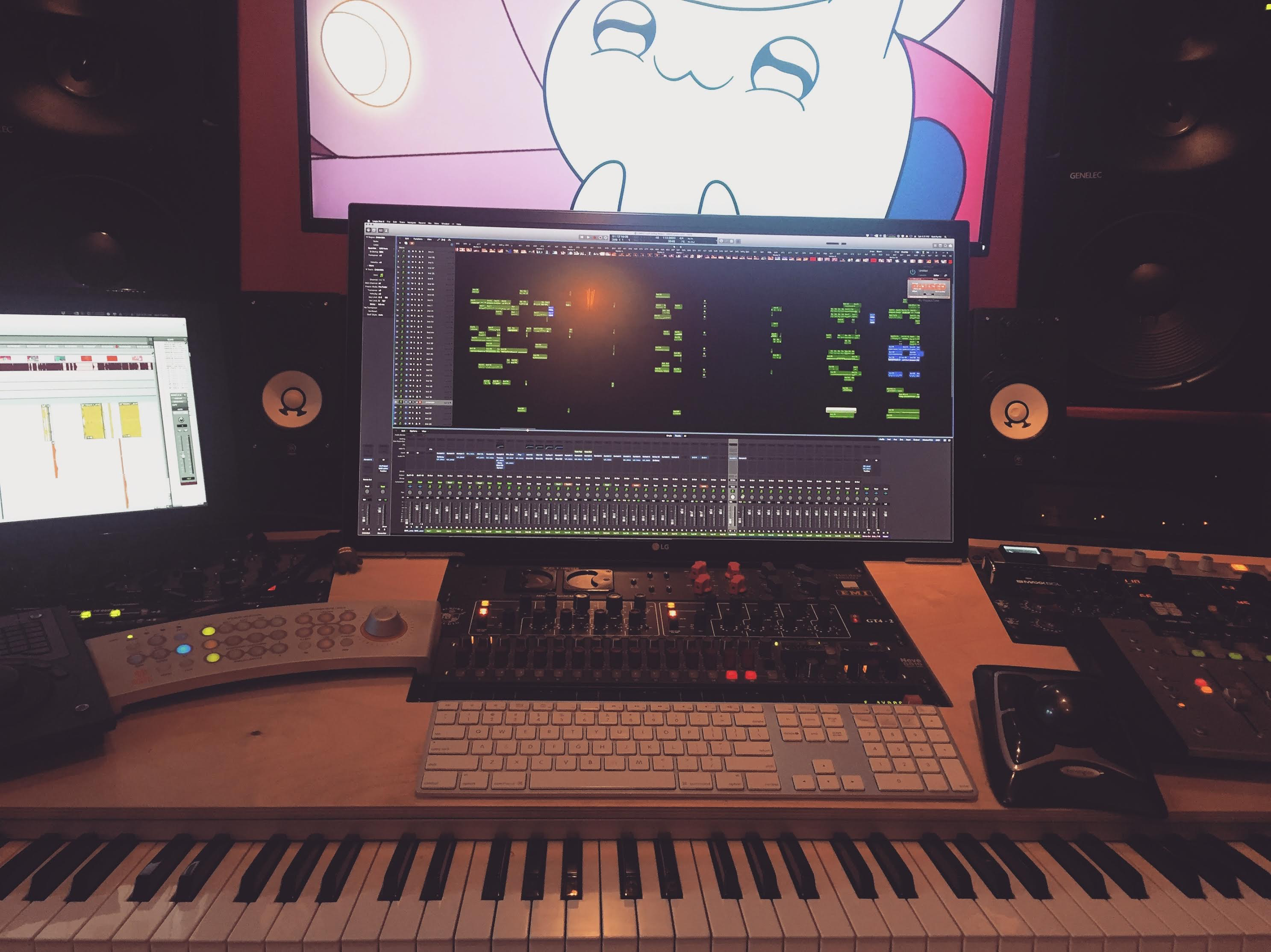 Music Composer
Creating custom original music for visual media.
"You're more expensive than my friend's kid who uses Garageband"
Yes.
Synthesizer Sound Design
Sometimes called "Additional Programming", these are bespoke sounds custom created for use within a Composer's score instead of common "off the shelf" sounds that everyone has access to.
The individual modules are sourced from all over the world – ranging from established synthesizer companies to one-man operations that design and build each by hand. The sonic possibilities of the system are endless, such as a building something from a huge trunk of Lego, and offers a bespoke sonic edge to a composer's sound.
Technical Wingman
A Technical Wingman is basically "Scotty" in Star Trek. Tasked with keeping the ship operational when the pressure is on! Depending on the scope of the production, it could be any number of things...
Studio Infrastructure
Integrating/deploying/maintaining studio systems at the hardware and software level
Session Prep
Preparing pre-records and materials for the score record and eventual mix
preparing sessions for an orchestrator
preparing parts if no copyist is involved
In Session
Take Notes
Verifying any note inconsistencies in Orchestration vs. Mockup
another ear in the room to listen out for tuning, intonation and stage noises
Education
Providing technical consulting services for Composers as well as meeting up with emerging composers to 'talk shop' about the business and how to dive in!
Neil is also involved with:
Screen Composers Guild of Canada
Member: 2005 to Present
Mentorship Program: Mentor, 2015 to Present
Seminar Host: Synthesis for Film & Television
Board of Directors: 2016 to 2018
Sheridan College
Music Applied to Stage, Screen and Interactive Visual Environments (MASSIVE) Program Advisory Committee Member
Fanshawe College Music Industry Arts
Program Advisory Committee: Member
Guest Lecturer: 2006, 2010, 2011, 2015 to Present
Centennial College Story Arts Centre - Part-Time Faculty
Digital Audio Music Production with Pro Tools (Fall 2016)
Digital Audio Music Production with Pro Tools (Fall 2017)
Digital Audio Music Production with Pro Tools (Winter 2018, 2020)
MIDI, Programming and Synthesis (Winter and Fall 2018, Winter 2020)
Canadian Film Centre
Slaight Music Residency: Technical Round Table Panelist 2013 to Present
Regent Park School of Music
Guest Speaker, Youth Committee 2020
Ontario Association of Broadcasters
OAB Career Day 2017, 2018, 2020
"Career Day provides a forum for soon-to-be
graduating broadcasting students to meet with professionals in their field to talk candidly and ask questions in a unique and casual setting. This allows them a level of access to people they would not normally have. The ever popular round-table discussions features hosts from all areas of broadcasting"
Harris Institute for the Arts
Guest Lecturer for MIDI Students, Fall Term 2016 and 2017
Guest Lecturer for MIDI Students, Winter Term 2017
Toronto Animation Arts Festival International
Panelist on "Music Underscore" 2013
University of Toronto Faculty of Music
Guest Lecturer for MUS3618 Studio Orchestration and Arranging (2021)
St. Maximilian Kolbe Catholic High School
Guest Speaker for the entire Grade 10 and 11 student body, discussing a career path as a freelancer (2014)
US Department of Veteran Affairs
Provided general music production and related computer technology one-
on-one training to a US veteran residing in Toronto (2005)