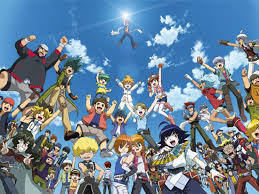 The Challenge
Enter late 2009: The reboot of the Beyblade franchise fires up and I'm at the helm for the Underscore. This is the first time I can think of where music from abroad is used for all markets *including* Japan!
I worked directly with the Japanese production company D-Rights.
The challenge here was the Director and Music Supervisor (titled "Music Director" in Japan) did not speak English. So, my liaison between all parties was the super amazing Emiko Takada. We sculpted out the details for hundreds of cues over Skype and emails, with Emiko handling all the back and forth translations.
It was one of the most challenging jobs I've had to date! As cultural differences in music sensibilities played a large role in how the score was shaped. Very little synthesizers were used and more organic sounds such as orchestral and acoustic instruments took it's place.
Very unusual for a Boys mega-action series! But they knew what they were doing and it worked!
The Beyblade Seasons I was involved in spawned 167 episodes!!